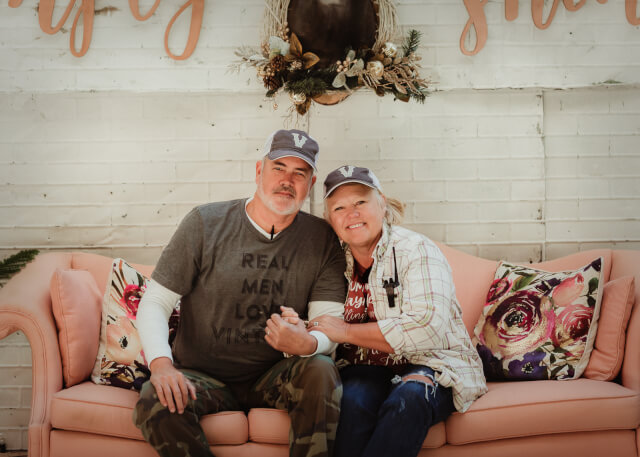 Mark and Kathy Sims
Welcome to Vintage Market Days of Greater San Antonio!
We are Mark and Kathy Sims, a newly married couple just beginning our late in life adventure together. In November of 2019 when Mark took Kathy as his bride, he also took on the whole Vintage Market Days family! Our first event, Simply Shine, was just a week after the wedding! And, thankfully, Mark was completely hooked. Kathy has been a part of the VMD family for years, beginning as a vendor with daughter Shauna Wardlaw in 2015. As our family has grown, Shauna remains as a key member of our VMD Greater San Antonio Team.
We are so excited to continue bringing the vintage experience to San Antonio and the Texas Hill Country! Thanks so much to everyone who has supported us in this crazy vintage life. Our favorite thing about being a part of Vintage Market Days is that it is a Christian conglomeration of small businesses that come together twice a year with the goal of bringing the seasons best in vintage and vintage-inspired goods to our treasured customers.
We love bringing the Vintage Experience to you! Mark and Kathy #VMDSATX
Vintage Market Days®
PRIVACY POLICY
· Vintage Market Days® respects your privacy. We will not use your E-mail ID and/or name for any purpose other than sending you a Vintage Market Days® newsletter or to contact you in reference to any other issue which is currently open between you and VMD.
· Vintage Market Days® will not share your personal data, ie. E-mail ID, or contact number, with any third party which is not related to www.vintagemarketdays.com
· Periodically, Vintage Market Days® will display some paid advertisers, on our website, which may lead you to external websites. Vintage Market Days® is not responsible for the content on the external website.
· Google, one of our third-party advertisers, may add a cookie to determine targeted advertisements based on your preferences and your visit to our site and other sites on the internet. You can choose to opt-out of Googles use of cookies by visiting the Google Ad and Content network privacy policy.
· The Vintage Market Days® newsletters will always include a link for opting out. As soon as you opt-out we will remove your E-mail ID from our database.