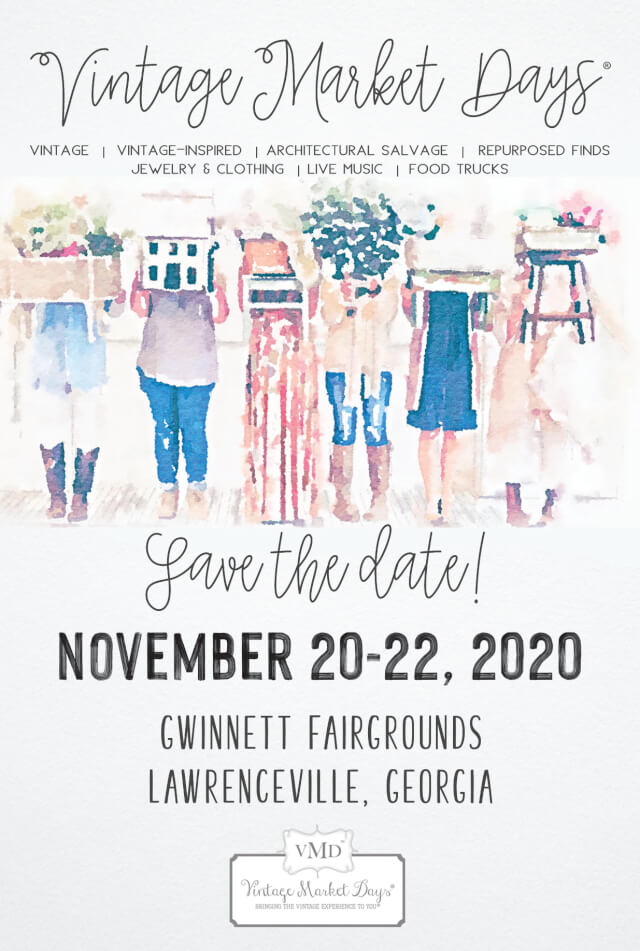 Alley, Linda and Melissa Vintage Market Days® of Greater Atlanta
November 20th - 22nd are the dates for our only event this year. We sincerely regret having to combine our spring and fall events, but welcome you to come enjoy all that is Vintage Market Days this fall.
Enjoy our indoor shopping experience and outdoor food and music areas. One favorite part of being at the Gwinnett Fairgrounds, our buildings are climate controlled - we will keep you nice and warm this fall! Also the abundance of free paved parking is a plus in this area. We may even offer you a ride on a golf cart to the ticket area if needed, always a bit of fun!
We are so excited about all of our customers and vintage artisans, craftsmen and artists to be together shopping, selling, buying and listening to live music and munching on delicious food!
A little about our Vintage Market Days® is shared below.
The three of us, Melissa, Linda and Alley along with our families have decided to take one of our greatest adventures and share it with all of you, our passion and love for vintage, the search for the perfect found object, and gathering with family and friends. Which is what we hope you will find at Vintage Market Days® of Greater Atlanta.
Our adventure started as customers at some of the first events held by Amy and Dianna, the owners of Vintage Market Days® in Tulsa, OK. We loved the atmoshpere, the owners, the people, vendors and the new friends we met so much so, we decided to become a part of this wonderful event as vendors ourselves. The three of us were so blown away with that first vendor experience that our dream to have our own Vintage Market Days was born. We shared, we laughed, we planned and hoped that some day, some way we could bring this vintage experience to others.
All three of us have southern roots, with some starting right here in the metro Atlanta area. Growing up Southern is something we consider a privilege, and being able to share our vintage inspired event with all of you right here in the Atlanta area, we consider an honor!
We are grateful to work with artisans, craftsmen, artists and curators as the vendors who represent the best of the best in vintage, architectural salvage, jewelry, also reclaimed and restored finds among so many other one of a kind items.
We thank you for supporting our dream of sharing the vintage experience with the Greater Atlanta area and hope to see you at our upcoming indoor/outdoor event November 20th, 21st and 22nd at the Gwinnett County Fairgrounds. Join us in our climate controlled buildings with live music!
Bringing the Vintage Experience to You™.........
Melissa, Linda and Alley
Email us:
#VintageMarketDaysofATL #VMDofATL #farmhousestyle #southerninteriors #vintage