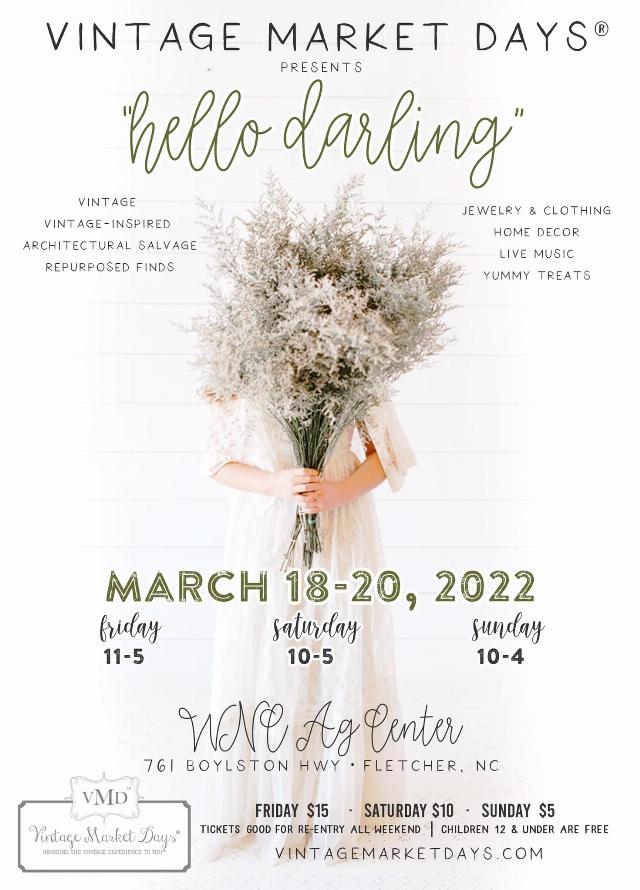 Event Information
March 18 - 20, 2022
WNC Ag Center
761 Boylston Hwy
Fletcher, NC 28732
Welcome to Vintage Market Days of
Asheville Metro
We are excited to welcome everyone back to Asheville for our Fall market! We are excited about moving over to the larger building where we can offer more vendors indoor and outdoors !
November 12-14, 2021 At The WNC Ag Center (Davis Center)
There is no better time than to plan a trip to Asheville for a weekend, Fall is so majical in Asheille, the leaves changing, the mountains just come alive in color. As the weather grows cooler everything starts to change color again in the mountains!
We hope you will join us for a weekend of funfilled shopping experience, live music, yummy treats and lots more. We are a family event and dog friendly!
Vendor applications available now!
1) Visit vintagemarketdays.com/vendor/
2) Create a profile, save, and login
3) Apply to Asheville
Vintage Market Days® is an upscale vintage-inspired indoor/outdoor market featuring original art, antiques, clothing, jewelry, handmade treasures, home décor, outdoor furnishings, consumable yummies, seasonal plantings and a little more. Vintage Market Days® events are so much more than a flea market. Each Vintage Market Days® event is a unique opportunity for vendors to display their talents and passions in creative venues.
Event Hours & Admissions
Friday, March 18, 2022
Friday General Public
11:00 am to 5:00 pm
Saturday, March 19, 2022
General Admission
10:00 am to 5:00 pm
Sunday, March 20, 2022
General Admission
10:00 am to 4:00 pm
Admission for children under 12 is free. Cash and credit card are accepted at the gate. Once purchased, your ticket is good for re-entry into the event all weekend.